Yesterday I had the pleasure attending a unique one-of-a-kind workshop! This was my very first workshop, and I couldn't be more impressed. It was called "A Girl in A Chair Photography Workshop" hosted and lead by Thea Lignos, Cathryn Vanbreene and Jasmine Star (and her hubby, JD). If you're a photographer, and unless you live under a rock, you know who Jasmine Star is and you know why I was supper excited to attend this workshop. She has revolutionized the way photographers do business, do photography and do networking...what an exciting time to be a photographer. Jasmine and JD couldn't be any cooler or SWEETER!! Even with them being in such high demand and high visibility, these two are still supper FUN totally humble and always aim to exceed peoples expectations. Whether it be a client or the sales man at home depot. Fame and popularity don't seem to get to their heads, and the stories I heard about them from other photographers at the workshop--blew my mind. Nothing but wonderful stories of Jasmine and JD!
Now onto Thea Lignos and Cathryn Vanbreene, they are like salt and sugar...and I'm not sure which ones which...I think they can be both. They are the backbone for the "
Your Wedding Day
" Magazine. Now I will be honest, I'm SUPPER picky about magazine covers, but I remember the first time a YWD Magazine laid eyes on me, after our eyes meet...I did a double take. Me: "oooo look at the font, look at that image." YWDmag: "Buy me!" Me: "Okay" The rest is history. SO to see the woman behind YWD Magazine, was a treat! A salty sugary treat!. The behind the scene details, hearing their stories, and to know how much work they put into the selection of the pages we flip through...made my day. It sky rocketed the value of the magazine and made me thankful for their hard work. Thea and Cathryn 100% balance each other out, and also stimulate each other to push further, harder and be more creative. It shows. Thank you gals!!
OK
The workshop wouldn't be half of what it was, without the AMAZING photographers I meet. I listed a few photographers that I had the pleasure to talk to and included the pictures I took of each of them (well minus Vitaliy, I didn't get a shot of him and stole his picture from FB). I also have a snap shot of each of their personal websites or blogs. I also included a little blurb about each of them below...
OMGosh
Ashley Bee
(and hubby) were SO cute, SO super friendly and oober talented. They are parents, ex-band members, worship singers at church, Christians, graphic designer, and photographers and HELLO Ashley's only 27!! You don't meet sweet people like this very often, and when I meet them and talked to them most of the night--I KNEW they were a rare gem of a couple. I see an even bigger, more promising future for their business, and their budding family!! I'm already really impressed, but I know this is not it for them, and their current and future clients can only expect best and cooler everything. By the way, LOVE the videos on your site, and your daughter Rhyan melts my hear. It was a pleasure to meet you Ashley and can't wait to see pictures of your new bambino!! Love ya girl!
Karen Stott
! She's the kinda woman that walks into the room, and everyone looks at her. She's beautiful, and has a larger then live presents about her. AND has a smoking HOT PINK get-up that matches her personality :) Bold! Karen, it was a blast hearing how you came from a hard start in networking with other photographers, to a completely awesome friendship with a local Oregon photographer and still don't hold a negative attitude, but took the lack of help as a challenge. And won! I can't wait to see what magic you continue to make in your business and I'm glad I meet you!
Stephanie Branch Saul
Ok I still think Stephanie is lying about her age, there is NO WAY she's... well anyway, if she tells you anything other then age 25, don't believe her! ha ha This gorgeous girl, is soft spoken, but powerful. She knows what she wants, AND after this workshop she is unstoppable. I watch her grow in her confidence, right before my eyes. We had chatted the night before the workshop, at dinner, and then again after the workshop...and it honestly was night and day on her own self-believe. I'm excited for you Stephanie!! I'm excited for your future clients!! PS I LOVED your hat, I want one. LOL
Holli True
Poor Holli!! She had to sit next to me the night before the workshop, and I just kept yapping in her ear and I was WAY to loud and way to excited about the workshop, about Jasmine, about her business cards. I was out of control!! But she would just keep looking over at me, with her HUGE adorable dimple, and nod her head in agreement--probably thinking, this lady is crazy. She had this contagious energy about her, and is the kinda girl that sees the glass half full! She was bubbling at the workshop, when learning new techniques with her 50mm 1.8 and her smile could light up a room. Stuff like that, was what made this workshop so fulfilling, and photographers like Holli make me thankful--because I know she's bringing love and life into clients lives!!
Jessica Lester-Frey
I love this girl!! She's supper cute, super fun and the kinda girl that you instantly feel like your best friends with. She just gets you! Her photography business is ready to launch into the next level--she has a new website and tons of new projects lined up!! I wish you the best with all them, and make sure to keep us Lompoc small town photographers updated!! I'm keeping you accountable! I challenge you to push the envelope! I mean you did drag a couch into the field by yourself! But really, I expect big things from you!
Matthew Cotter
Becker!! Okay Matt is not Becker, but he sound like him, looks like him and I can see him having tons of fans, just like Becker. Matt's the kinda guy that you hope pick you first for the kick ball team...you want to be with that cool guy. Matt...how can I say it, is smooth. A bunch of photographers went to dinner both nights, before and after the workshop...and as I spazzed out asking random questions a million miles a minute...he would pause and neutralize my spazzness, with a deep thought or a calming response. Not to mention, the few sneak peaks I got to see in his camera (from his trusty 70-200) were HOT! I'm excited to see this TV world guy-turned photographers blow us away! Nice meeting you Mr. Smooth. Best of luck with your wedding, and marriage!! Can't wait to see the pictures!
Vitaliy Prokopets
I saved the best for last. Vitaliy is one of these guys that you wish were family--for real! Not only does he have a cool accent, but he has this totally genuine personality and kindness towards people. I bet you all his clients ended up as friends for ever! I haven't had the pleasure of meeting his wife, but by his description, she's not only beautiful but probably what makes him who his is. Anyway, not only are your images amazing, and your business skills sharp, but you made a mark on my life in just the short time we meet...I can only hope that our paths cross again. I know your business has taken off, and there's no looking back! Bravo.
J* doing what she does best! She told me "If you tag me on FB with a bad picture, I will un-friend you"! Hello, CAN you take a bad picture of her? Doubt it.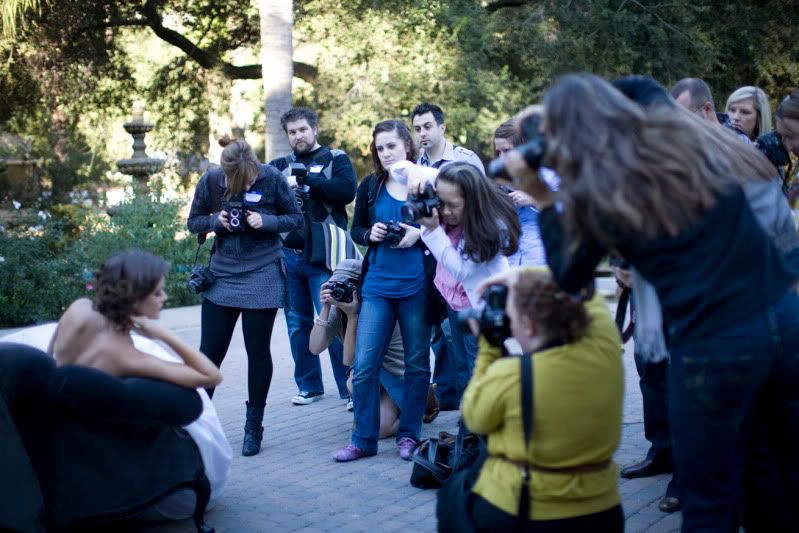 The madness of 30 photographers and one model ha ha... Actually this wasn't even half of our group.
JD! He's so nice! Was glad I got to chat with him.
A few images I took-we can only post images of the models, no details till the magazine release.
I grabbed this image off of J*'s blog. Check out her amazing work
here
!